Storage Buildings of Birmingham
Wood Buildings
Wood versus Metal
Which is better wood buildings or Metal buildings? That depends on what you want to use the building for and the degree of importance you place on appearance, durability, cost, and other factors. How much do you want to spend? Metal is a cheaper option. Do you want durability? Wood is a better option. A little maintenance and paint every 5 - 7 years or so will keep a wood shed from rotting, or with pressure treated siding a wood building is virtually maintenance free. Wood is an excellent choice - very durable, long lasting, and you can keep it painted to match your home. Metal buildings are lower cost, particularly for a large building, but they are not as astatically pleasing. .
Wood Building Options & Choices
The cabin or playhouse is available in many different sizes and styles depending on its uses and customer preferences. Sizes range for 8'X12" playhouse to a cabin as large as you would like and your lot will hold. Styles run form plane rustic utility to very fancy and elaborate. Siding options include pressure treated T1-11, painted house siding, and vinyl.

Building Walls & Exterior Siding
Aesthetics and durability are the two major functions the siding and wall framing serve. In order to fulfill these two requirements our standard walls are constructed using the finest grade siding available. The wall framing utilizes 2x4 studs on 16" centers. Cabins and palyhouses can be sided in pressure treated T1-11 siding, painted house siding, vinyl, or many other options. Siding panels are screwed as well as nailed to provide added strength.
Roof Options
To insure the longest lasting defense form rain and the elements while giving the most uniform appeal Storage Buildings of Birmingham standard roofing is high quality 30 year asphalt shingles or a high grade metal roof that carries a 20 year warranty. Internal moisture can also cause damage in our Alabama climate and through the use of ridge vents, and custom cross ventilation vents protection is installed to insure the release of the excess moisture.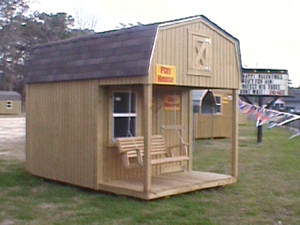 Are you ready for your new cabin or playhouse? Give us a call at (205)-821-7056 today or request a quote online and let us give you a free estimate. We serve all of Birmingham and north Alabama including Tuscaloosa, Jasper and the over the mountain area.
What if you rent?
What if you rent or lease and want a cabin or playhouse? That need not need to be a problem. While if you build a permanent structure on your landlord's property it becomes his, we can build you a portable building, up to 12' wide. That way when you move you simply move your building.
Customer is responsible for compliance with all permits, zoning requirements and covenants.
Advertisement
Got a business in Birmingham and need more customers? Be where your customers are looking. Get a website and directory listing in nBirimingham.net, the place to find any and everything in or about Birmingham, Alabama.