Storage Buildings of Birmingham
The Utility Building, Shed or Garden-house
The utility storage building or shed can feature a simple gable roof, a single or double doors, and optional side and rear windows for natural lighting. Electrical lighting and receptacles are also available. On the other hand a utility building can be very unique in styling, materials and architecture. With full-height walls and doors, there's ample room for storing large items or creating a comfortable work space, or utility height walls make for a less conspicuous presence. An optional wood ramp helps in moving lawn mowers and other heavy equipment.
Building Options & Choices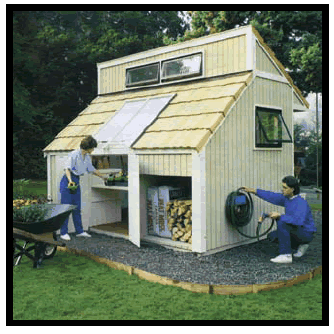 The shed or utility is available in many different sizes making it especially adaptable for different uses. For example, you can easily frame in additional windows—to use the shed as a workshop or potting shed—or omit all of the windows and devote the space entirely to secure storage. The finish materials for the basic shed can be true to its name: asphalt roof shingles, T1-11 plywood siding, and simple trim details or you can match your home as to color, siding and style. Doors can be prehung house doors or over-sized utility doors.
Building Construction
Each utility building is handcrafted by a master carpenter, which helps to insure that the building you receive is of a high standard of quality. Handcrafted workmanship is just one of the many advantages to owning a Storage Buildings of Birmingham quality built building. This hand built process allows for customization when changes are needed to match special requirements of you building.
Building Foundation & Flooring
The utility building or shed can be on a concrete slab foundation or a wood floor on a block foundation. A utility of up to 12' wide can even be built on 4x6 pressure treated skids so that it can be moved. The standard wood floor is the framed using pressure treated 2x6s with a 12" on center spacing to allow for maximum sub-floor strength and integrity. Standard flooring is 3/4" pressure treated plywood, giving you a floor system that will stand the test of time. Other flooring options are available.

Building Walls & Exterior Siding
Aesthetics and durability are the two major functions the siding and wall framing serve. In order to fulfill these two requirements our standard walls are constructed using the finest grade siding available. The wall framing utilizes 2x4 studs on 16" centers. Utility buildings can be sided in pressure treated T1-11 siding, painted house siding, vinyl, or many other options. Siding panels are screwed as well as nailed to provide added strength.
Roof Options
To insure the longest lasting defense form rain and the elements while giving the most uniform appeal Storage Buildings of Birmingham standard roofing is high quality 30 year asphalt shingles or a high grade metal roof that carries a 20 year warranty. Internal moisture can also cause damage in our Alabama climate and through the use of ridge vents, and custom cross ventilation vents protection is installed to insure the release of the excess moisture.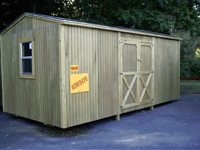 Are you ready for your new utility building, shed or garden house? Give us a call at (205)-821-7056 today or request a quote online and let us give you a free estimate. We serve all of Birmingham and north Alabama including Tuscaloosa, Jasper and the over the mountain area.
What if you rent?
What if you rent or lease and want a utility building, shed or garden house? That need not need to be a problem. While if you build a permanent structure on your landlord's property it becomes his, we can build you a portable utility building, shed or garden house, up to 12' wide. That way when you move you simply move your building.
Customer is responsible for compliance with all permits, zoning requirements and covenants.
Advertisement
Got a business in Birmingham and need more customers? Be where your customers are looking. Get a website and directory listing in nBirimingham.net, the place to find any and everything in or about Birmingham, Alabama.