Storage Buildings of Birmingham
The Cabin & Playhouse
Permanent Foundation or Portable
The cabin or playhouse can be built to be portable or on a permanent foundation. Many of our customs decided to have a portable building. Often these are cabins which are use for hunting clubs, temporary living quarters for construction crews or some other need where there is a strong likelihood that the building will need to be moved in the future. Playhouses are often the same. Parents or children might want it here, but then to also have the option to have it moved to there, at a later date. Portable cabins are available in widths of up to 12' and lengths up to 32'.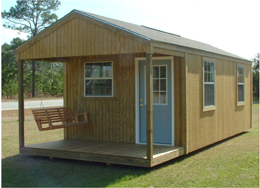 Of course there are many times a permanent foundation made of blocks, footings, or a monolithic slab is the best choice. Storage Buildings of Birmingham can provide you with a sturdy, anchored building either way, permanent foundation or portable.
Cabin Options & Choices
The cabin or playhouse is available in many different sizes and styles depending on its uses and customer preferences. Sizes range for 8'X12" playhouse to a cabin as large as you would like and your lot will hold. Styles run form plane rustic utility to very fancy and elaborate. Siding options include pressure treated T1-11, painted house siding, and vinyl.
Cabin or Playhouse Construction
Each cabin or playhouse is handcrafted by a master carpenter, which helps to insure that the building you receive is of a high standard of quality. Handcrafted workmanship is just one of the many advantages to owning a Storage Buildings of Birmingham quality built building. This hand built process allows for customization when changes are needed to match special requirements of you building.
Building Foundation & Flooring
The cabin or playhouse can be on a concrete slab foundation or a wood floor on a block foundation. A cabin of up to 12' wide can even be built on 4x6 pressure treated skids so that it can be moved. The standard wood floor is the framed using pressure treated 2x6s with a 12" on center spacing to allow for maximum sub-floor strength and integrity. Standard flooring is 3/4" pressure treated plywood, giving you a floor system that will stand the test of time. Other flooring options are available.

Building Walls & Exterior Siding
Aesthetics and durability are the two major functions the siding and wall framing serve. In order to fulfill these two requirements our standard walls are constructed using the finest grade siding available. The wall framing utilizes 2x4 studs on 16" centers. Cabins and palyhouses can be sided in pressure treated T1-11 siding, painted house siding, vinyl, or many other options. Siding panels are screwed as well as nailed to provide added strength.
Roof Options
To insure the longest lasting defense form rain and the elements while giving the most uniform appeal Storage Buildings of Birmingham standard roofing is high quality 30 year asphalt shingles or a high grade metal roof that carries a 20 year warranty. Internal moisture can also cause damage in our Alabama climate and through the use of ridge vents, and custom cross ventilation vents protection is installed to insure the release of the excess moisture.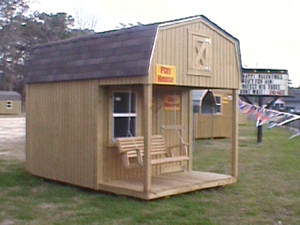 Are you ready for your new cabin or playhouse? Give us a call at (205)-821-7056 today or request a quote online and let us give you a free estimate. We serve all of Birmingham and north Alabama including Tuscaloosa, Jasper and the over the mountain area.
What if you rent?
What if you rent or lease and want a cabin or playhouse? That need not need to be a problem. While if you build a permanent structure on your landlord's property it becomes his, we can build you a portable building, up to 12' wide. That way when you move you simply move your building.
Customer is responsible for compliance with all permits, zoning requirements and covenants.
Advertisement
Got a business in Birmingham and need more customers? Be where your customers are looking. Get a website and directory listing in nBirimingham.net, the place to find any and everything in or about Birmingham, Alabama.